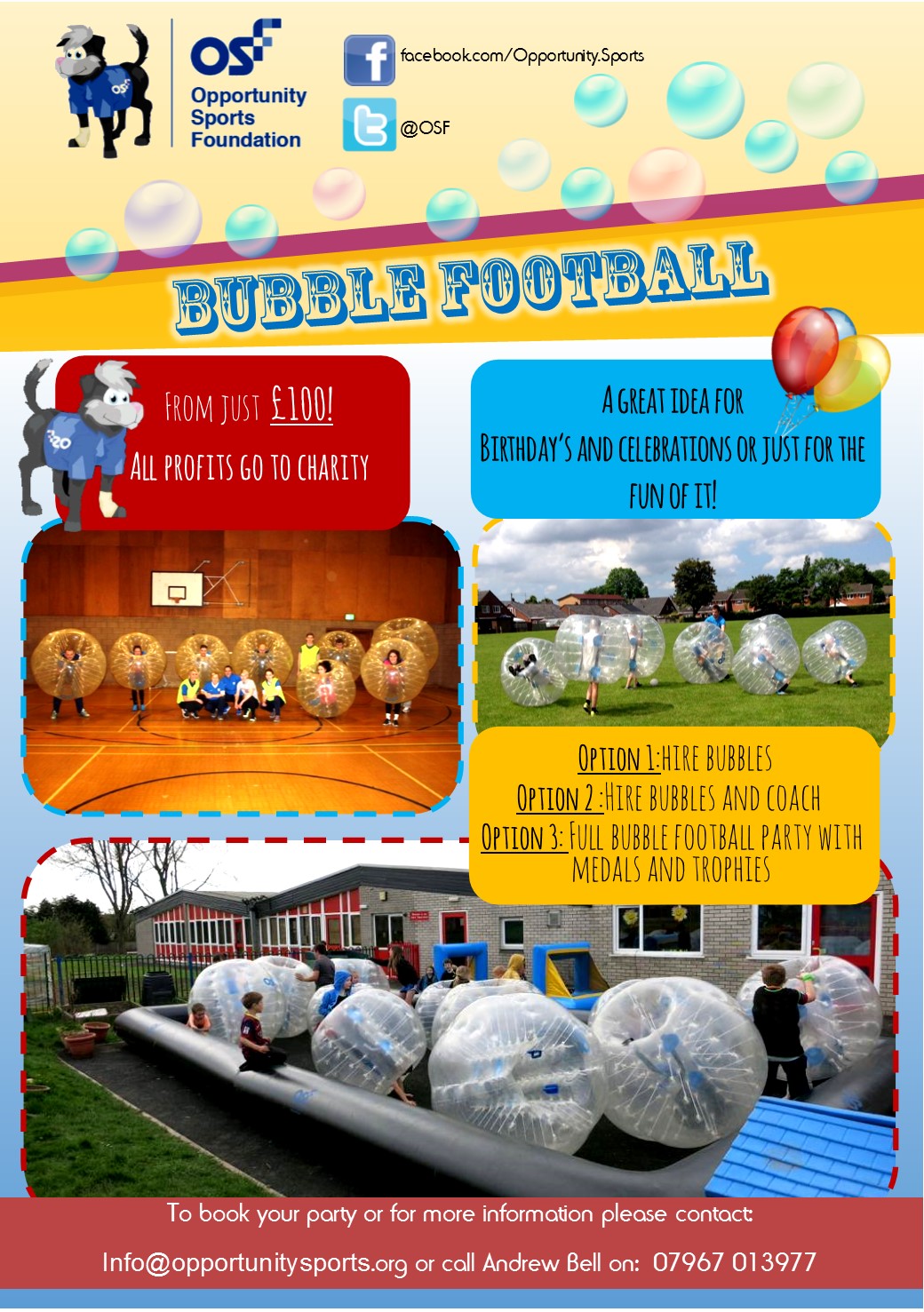 Bubble Fooball guarantees a lot of laughter and a lot of bumping! Once the whistle starts everybody flies straight in, there's a lot of bumping, bouncing, rolling and laughing. You and your friends will be laughing for days after! You can hire bubble football from OSF for any occasion, birthday parties, corporate events, stag & hen and much more! We will provide the bubbles, goals and even an inflatable pitch surround on request, all you need is somewhere to play such as a field, sports hall, gym or an astro-turf. We will also provide a coach/referee upon request! We operate anywhere within Lancashire with the cheapest price guaranteed in the UK so please do not hesitate to contact us and BOOK NOW!
Prices: OSF can provide 10 bubbles and there is no limit to the number of people that can take part. It costs from £100 for up to 1 hours Inflatable goals can be provided at no extra cost. The inflatable pitch 30m x 20m or 15m x 10m to be included 100% OF ALL MONEY RAISED GOES TO OSF TO SUSTAIN OUR CHARTIABLE PROJECTS.
Equipment Hire: OSF has a considerable amount of fantastic sporting and leisure equipment, which is available to hire at an affordable price! This includes all of our inflatable pitches; we currently have two inflatable pitches ranging from 30m x 20m or 15m x 10m which are fantastic for sports days or community events! Guaranteed a lot of fun and enjoyment! OSF also has several footballs, netballs, basketballs, quick cricket equipment, badminton nets and rackets, boxing equipment, football flick, portable netball and basketball nets, portable flood lights and a number of inflatable iGoals. Please contact us for more information and prices!